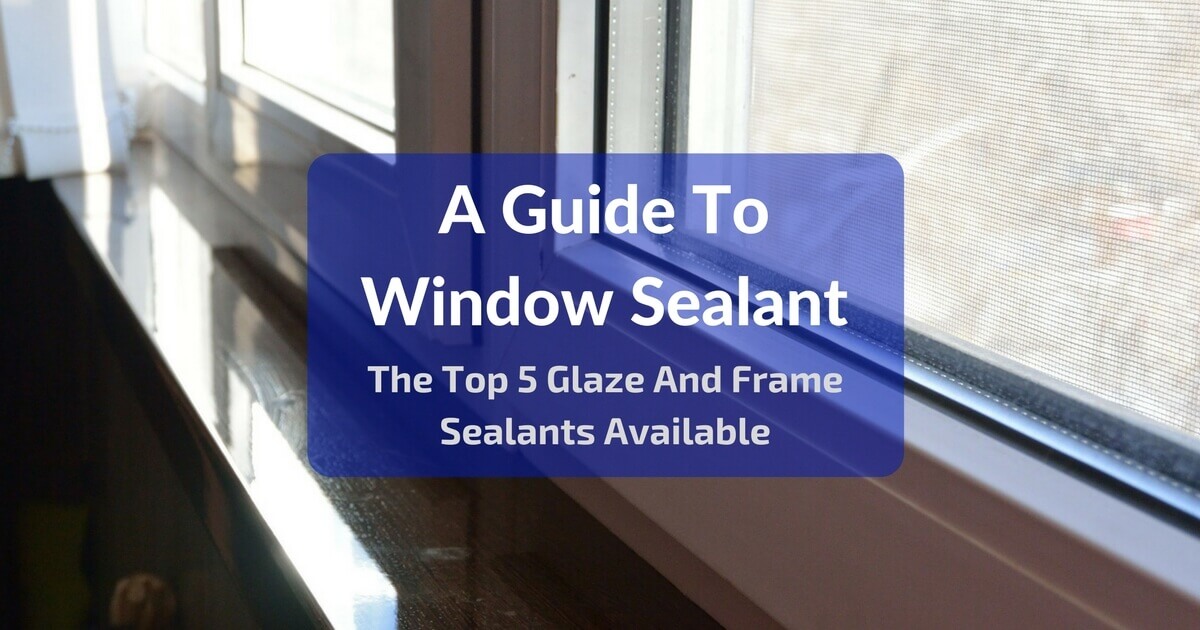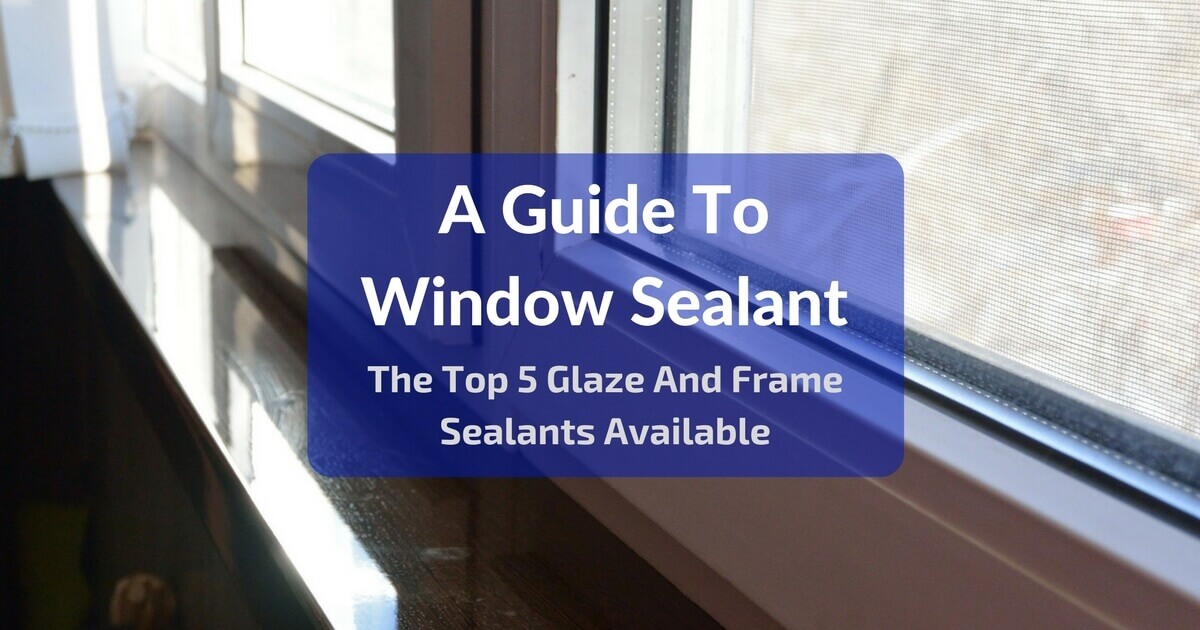 Posted by Direct Sealants in Sealants
January 11, 2018
No Comments
There is a wide range of window frame sealant and glazing sealants available.
Whether it is for windows or frames, in this guide to window frame sealant we'll take a look at the top 5 options.
The principal aim of a sealant used in this scenario is to keep your home or business premises free from moisture.
As most window frames are subjected to a degree of movement, contraction or shrinkage, it's important that the seal is flexible.
In most cases, low modulus based silicone sealants, which can be used in both external and internal environments, are recommended for window frames.
These substances offer optimal flexibility to cope with movement within the window frame, and they also provide long-lasting results.
If you're on the lookout for a window sealant, you may be wondering which products to choose.
This guide will highlight the top 5 glaze and window frame sealants to help you narrow down the options.
You'll learn more about individual products and choose the right window frame sealant for the job.
Glaze & window frame sealant options
There's a vast array of sealants out there, which can be utilised for window frames.
To make life easier for you, we've selected the five front-runners of window frame sealant.
A low modulus, neutral cure, odourless silicone window frame sealant for frames, which can be used both internally and externally.
This versatile sealant bonds to an array of different materials, including:
PVCu
wood
powder-coated aluminium
Without the need for priming in advance of application.
This can also be used on glass.
This form of sealant is suited to both porous and non-porous surfaces, and it has a wide range of uses.
This product is suitable for weather sealing, sealing glass to glass and glass to aluminium and perimeter pointing.
It is also compatible with soft metals, such as lead and copper, as well as plastic and PVCu.
When used with PVCu and plastic, Everbuild 825 LM also offers adhesive properties.
Everbuild 825 LM comes highly recommended due to its versatility, its durability and its ability to weather the elements.
This is a product that is a viable option for customers with window frames made from all kinds of different materials.
It boasts impressive adhesive properties and a non-slump formula.
Everbuild 825 LM comes in a broad spectrum of colours, including:
white
grey
black
brick
stone coloured tones
This allows it to blend seamlessly with the surroundings.
A low modulus, silicone-based sealant, which is suitable for use with most frame types.
This high-quality, elastic product is compatible with a wide range of surfaces and materials, making it a viable option for most buyers.
There is an array of colours available to blend in with the frame aesthetic, and you can choose from white, black, grey, caramel, brown, teak and bronze.
The colour selection is designed to ensure that the sealant matches almost any frame.
One of the best features of Silirub is the ease of application.
The flexibility of the material aids application and the sealant retains its elasticity long after the initial curing process is complete.
Soudal Silirub LM sealant boasts a permanent colour and UV resistance, which makes it an attractive option for both internal and external use.
This product offers excellent adhesion on a range of different materials, including:
PVCu
treated and untreated wood
metals
glass
The flexibility of the material makes this is an effective solution for high movement joints, which are subjected to contraction, shrinkage or expansion.
A good all-rounder, which is cost-effective, versatile and easy to use.
This low-mid modulus sealant can be used to point perimeters both internally and externally.
It is compatible with a broad spectrum of porous and non-porous surfaces.
This product is able to provide a secure, aesthetically pleasing seal.
It does this without the need to prime the surface first, enabling you to provide fast, efficient results.
This can be utilised with most frame types, and it is designed to blend discreetly with most window frames.
This is a product that is suited to a wide range of materials, including:
wood
PVCu
glass
aluminium
It's an excellent choice for large-scale jobs and professionals who undertake sealing tasks on a regular basis.
This can be used for weather seals, general glazing and roof weather sealing and its flexibility also makes it an effective option for expansion joints.
The ability to weather the elements over a period of time increases longevity and provides value for money.
The price and ease of use make this a popular choice for sealant professionals.
A high-quality silicone sealant, which is recommended for sealing brickwork joints and PVCu perimeters.
This is a one-part neutral cure sealant, which forms an elastic silicone rubber barrier when exposed to moisture.
This is not suitable for all window frames and glazing projects.
It is highly recommended for:
brickwork joints
glazing glass window units
sealing translucent roof joints
general glazing
But it should not be used during the assembly of glass walls or when working with natural stone.
When used with glass units, this sealant fits with the MVP and Heel Bead methods.
It comes in a wide range of colours including:
brickwork shades
red
grey
magnolia
brown
buff
anthracite
pine
white
When used with brickwork joints, this is easy to use, and this makes it a popular premium product.
A silicone sealant that's a moisture cured window sealant.
Ideal for use in both building and glazing joints.
Made from a single component, this incredibly versatile product is geared towards high movement and expansion joints and it has a wide range of uses.
This low modulus sealant cures at room temperature, creating a flexible, elastic seal.
In the vast majority of cases, no primer is required, and SFS can bond directly to a host of different surfaces.
One of the main selling points here is the movement it can accommodate.
Once the sealant has cured, it has a movement capacity of up to 50% over a range of temperatures.
This makes it an excellent choice for expansion joints and joins between the perimeters of windows and doors.
This was developed for use in building and glazing applications.
Including:
expansion joints located in curtain walls
perimeter joints surrounding doors
windows and joints located on gutters, roofs and chimneys
This neutral, moisture-cured sealant can also be used on glazing joints comprising of several different materials, including:
This stain-free silicone sealant also offers efficient, hassle-free application, and it comes in a selection of shades that match most materials.
Colour options include:
light and dark grey
white
black
teak
bronze
terracotta
buff
off-white
anthracite
The range of tones is designed to complement most window frames and brickwork for an aesthetically pleasing result.
What to look for when choosing a window frame sealant
It's always beneficial to have a choice in life, but when you're faced with a whole host of products, making a decision can be tough.
There are various factors you may wish to consider when narrowing down your options and trying to choose the best window frame sealant product.
One of the most important considerations should be the materials used to create the frame.
Some window frame sealant adhere to certain materials better than others.
It's also wise to think about the location of the window.
Although many products are suited to both external and internal use, some may have properties that are better suited to outdoor use.
If you're sealing external frames, it's best to go for those that are designed to weather the elements.
The type of joint is also an important factor.
If the frame is going to move as a result of changing weather conditions, for example, using a window sealant that is suited to high-movement or expansion joints is beneficial.
It's also wise to look at aesthetic options.
If you're desperate to preserve the aesthetic appeal of a property or facade, for example, you may wish to go for the product that offers the closest colour match to the frame.
If you're trying to blend in with brickwork, for example, it's advisable to opt for a sealant that comes in a range of brick-coloured shades.
Cost may also play a part, and it's worth comparing prices and bearing your budget in mind.
Conclusion to window frame sealant
If you're on the hunt for a window frame sealant, you may be surprised at the number of products on offer.
With so much choice, it can be difficult to reach a decision.
Hopefully, this guide has given you some useful information.
It should help you to determine which products will be best for the job you're undertaking.
Consider the environment, materials used and the cost before you start narrowing down your options.
And don't be afraid to seek professional advice.
Some products are suited to certain projects.
Look out for features and advantages that match the kind of job you're undertaking and offer the kinds of benefits you're searching for.